Compressor block installation for compression of associated petroleum gas
Recovery of associated petroleum gas (APG), appearing during oil production is accomplished by means of our compressor equipment. Earlier this gas was compressed at production place on flares, but with toughening of ecological requirements, buying equipment for APG recovery has become much cheaper than paying emissions penalty. Additional advantage is that gas can be used in future:
injecting it into pipelines and earning whereby additional money;
injecting it into your own generator at operation place, whereby saving money for energy saving.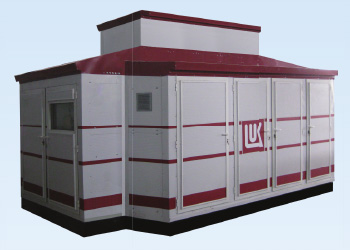 Equipment of compressor block installation for associated petroleum gas compression (hereinafter - station) is designed for compression of the natural gas from excess pressure of 0,2 to 2,0 MPa (2 to 20 kgf/cm2).
The station is a set of equipment including a compressor itself with an electric motor as engine, frame, automated oil supply for a compressor unit, air cooling, automated controls and other parts and components, required to per­form the compression and life support functions (lighting, ventilation, fire protection and firefighting).
The station is manufactured in various climatic versions according to GOST 15150 and serviceable within the temperature range from 223 К up to 308 К (from -50°С up to +45°С).
Technical characteristics
Compressed medium — oil associated gas, non-corrosive, explosive, category IIA, group TZ according to PUE-85.
Station parameters, according to requirements of technical task and technical documentation are given in table.
Station electric supply — three-stage alternative current network with voltage 380V, frequency 50 Hz.
Driver type — asynchronous, explosive-proof, three-stage motor.
Compressor — piston opposite four-row two-stage on the basis of 4GM2,5. Basic characteristics of the compressor are presented in the table.
Station mode — round-the-clock, with periodic stops for maintenance.
| | |
| --- | --- |
| Parameter | Value |
| Ambient Temperature, °C | -50...+45 |
| Inlet gas temperature, °C | 0...+45 |
| Inlet gas pressure, MPa (kgf/cm2) | 0,2 (2)...2,0 (20)* |
| Performance at the initial gas temperature of 0°C, reduced to normal conditions (0.101325 MPa, 0°C), nm3/h | 5500* |
| Outlet pressure, MPa (kgf/cm2) | 3,5 (35)* |
| Maximum outlet temperature, °С | 60 |
| Overall dimensions, mm: |   |
| - length | 6 340 |
| - width | 2 340 |
| - height (excluding plug) | 3 695 |
| Weight, kg | 16 000 |