Air Compressors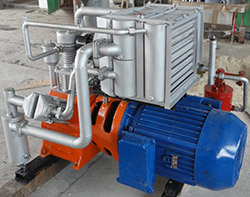 Compressor 3VSH-1,6-3,3/41 — analogue of equipment of Yerevan compressor plant VSH-3/40. During the time of work we produced and put into operation over 20 units of the above mentioned equipment.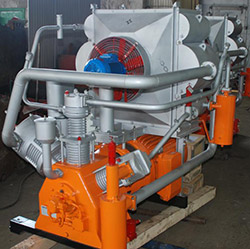 Compressor 6VSH-1,6-2,6/230 by its technical parameters is analogue of compressor VSHV-2,3/230.
During the process of new equipment constructing, all weak sides of installation of Ural compressor plant VSHV-2,3/230 were considered and improved. As a result 6VSH-1,6-2,3/230 has the following advantages:
dismountable pipe cooling system, cassette type, simple in operation, cooling is accomplished by electric motor, controlled by system of automatic control and protection, cooler protects equipment from overheating, provides air temperature for receiver within the range of 60°С;
oil system is improved, safely protects surfaces of  sleeve and crank groups from  lubricant starvation, due to change of construction oil consumption is decreased;
all details of sleeve and valve groups are interchangeable with compressor VSHV -2,3/230;
system of automatic control and protection on the basis of Jazz controller has simple  of operation procedure, easy in operation, allows  to determine precisely the cause of normal operation failure, determines defect at early stages, thereby safely protects equipment against more serious damages;
compressor platform is identic to VSHV-2,3/230, which allows to install new equipment  instead of old one with the least expenses.