Mobile compressor stations
Mobile nitrogen compressor station PAKS-250 is designed for compression of atmospheric pressure and obtaining from it explosive-proof gas mixture with oxygen content not more than 10%, used during tests and  development of oil producing and gas wells, as well as during building and repair of gas pipelines.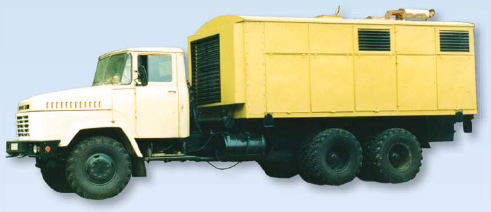 The station is produced on the basis of piston opposite six-stage air cooling compressor. Drive gear — diesel engine «DEUTZ» (Germany). Gas separation unit is made on the basis of hollow-fiber polymeric membranes. Equipment is mounted on the basis of automobile KRaZ 65053.
Technical characteristics of PAKS
| | |
| --- | --- |
| Parameters | Values |
| Compressed gas | Inert gas mixture |
| Capacity at primary conditions, (m3/min) | 10 |
| Pressure final, over, MPa (kgf/cm2 ) | 24,5 (250) |
| Cooling | Air |
| Motor | Diesel BF8M1015C |
| Power consumption, not more, kW | 285 |
| Rate speed of drive motor crank shaft, 1/s (rpm) | 25 (1500) |
| Dimensions, mm: length width height | 9580х2560х3650 |
| Weight, kg | 22000 |
MAJOR COMPONENTS OF THE STATION
Chassis of KRaZ-65053;
Piston opposite compressor with air cooling and limited lubricant of piston groups;
Driving diesel compressor "DEUTZ" with liquid closed-circuit cooling;
Unit of compressed gas air cooling by compressor stages;
Gas separation unit on the basis of cartridges from hollow-fiber membranes (manufactured in USA) with set of filtering elements and sensors;
System of energy saving and automatic control and protection against  emergency parameter values;
Station container for protection against atmospheric precipitations and sun rays;
Set of joint pipelines for station connection to well or other equipment (consumer);
Spare tools and accessories kit.