Rotary compressors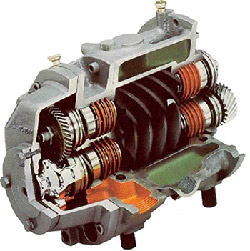 Rotary gas compressor stations are designed for gas compression and  supply to different technological systems. Compressor station on the basis of rotary compressor is manufactured in climatic version «M» (moderate), «MCC» (moderately cold), «CC» (cold) category 1 according to GOST 15150 and is intended for operation in the temperature of the surrounding air from -40ºС to +45ºС. Choice of compressor  is determined by input gas pressure and capacity.
Rotary gas compressors series QSG have increased life cycle, which allows them to surpass their competitors by this parameters. Due to larger diameter of driving and driven rotors, maximum capacity is reached at low engine speed.
Long-term experience in designing compressor heads allowed creating rotor of special construction, which in combination with specially designed bearings make compressors series QSG long-term and easy in operation and service.
Compressor station on the basis of rotary compressor includes: rotary compressor, electric motor, oil filters of coarse and fine refining, water or air cooling unit, oil tank, pipe manifold, shutoff and control valves, remote control board, assembled on the frame and placed under under cover, in premises or heated technological unit (container).
Technical specifications
Compressor unit
QSG-225
QSG-285
QSG-350
QSG-700
QSG-1460
QSG-1750
Inlet gas pressure, kgf/cm2
0,8-2,4
0,8-1,9
0,8-1,8
Outlet gas pressure, kgf/cm2
6,2-15,5
6,2-12,3
Productivity, nm3/h
119-560
238-968
289-1172
612-1937
1138-3806
1359-4553
Maximum outlet temperature, ºС
+15ºС to environmental temperature
Nominal capacity (kW)
55
81
103
176
397
448