High-pressured gas dewatering installation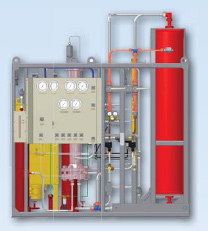 High-pressured gas dewatering installation of adsorption type with moisture-laden adsorbent regeneration designed for deep (to a residual moisture content of 0,009 g/m3) drying of the compressed to high pressure (about 250 kgf/cm2) natural gas. Regeneration of the adsorbent is made with dried and heated injection gas at the inlet pressure. Gas extraction for recovery does not exceed 5% of the plant performance. Gas dewatering installation provides the work of a station without generation of hydrate formations at environmental temperatures up to -30°C.
Place of dewatering installation — after the last compressor stage. Installation is equipped with  loop line of gas supply through adsorber, which is controlled manually. Time of dewatering half cycle is not more than 8 hours.
Dewatering control is automatic.
Safety valves are installed in dewatering installation on the lines of compressed and recycle gas.
By agreement with the orderer, installation can be equipped with humidity meter with output of indications  on the control desk in control room*.
Technical specifications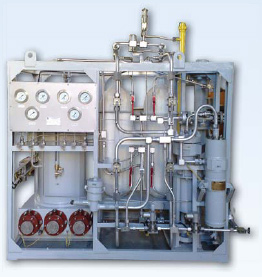 | | |
| --- | --- |
| Parameter | Value |
| Maximum pressure in the adsorber, MPa (kgf/cm2) | 24,5 (250) |
| The volume of one adsorber, m3 | 0,1 |
| The maximum oil temperature inside electric heater, °C | 160 |
| Maximum temperature of the regeneration gas, °C | 120 |
| The moisture content after drying, no more than, g/nm3 | 0,009 |
| Oil volume filled into electric heater, l | 240 |
| Total installed capacity, no more than, kW | 10 |
| Bandwidth, no more than, nm3/h | 1600 |
| Gas flow withdrawed to regeneration, no more than, % | 5 |
| Drying unit weight, no more than, kg | 3320 |
| Overall dimensions: length, width, height, mm | 2100х1060х2450 |