Critical Parts and Components
Enterprises of the Production Association have the ability to produce a variety of critical parts and components for gas-compressor units (GCU) and compressor stations. Production Association also can arrange a delivery particularly difficult critical components directly from manufacturing plants of Russia and Ukraine. Examples of critical components can be engines, dettachable rotor bundles, rotors.
Engines

The Production Association can also deliver engines that are manufactured by Motor Sich JSC and Zorya-Mashproekt SE. Our collaboration with the United Engine Corporation (Russia) and Aviakon SE (Ukraine) allows us to conduct repairs and supply spare parts for compressors' engines, including ones of the Russian origin. For instance, NK-12ST, NK-16ST, D-336, DG90 etc.
Detachable Rotor Bundles (DRB)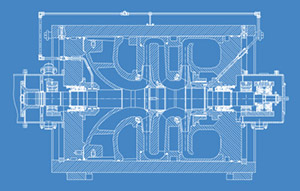 DRB are intended for re-equipment of the existing base of gas-compressor units:
at the booster compressor stations in order to ensure stable gas production in the conditions of intensive formation pressure falling at the last stages of deposit development;
at the line compressor stations of gas-main pipelines with the purpose of its work mode optimization;
at the stations of underground gas storage for the rational use of equipment in the context of changing modes of gas withdrawal/injection.
DRB are a set of rotor and stator parts of a compressor, installed instead of the regular ones at the site of gas-compressor units operation.
We have a capability to manufacture and deliver DRB according to speciffic client's specification.
Rotors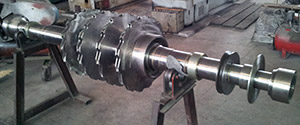 The Production Association manufactures and delivers rotors for gas compressor units of various modifications.